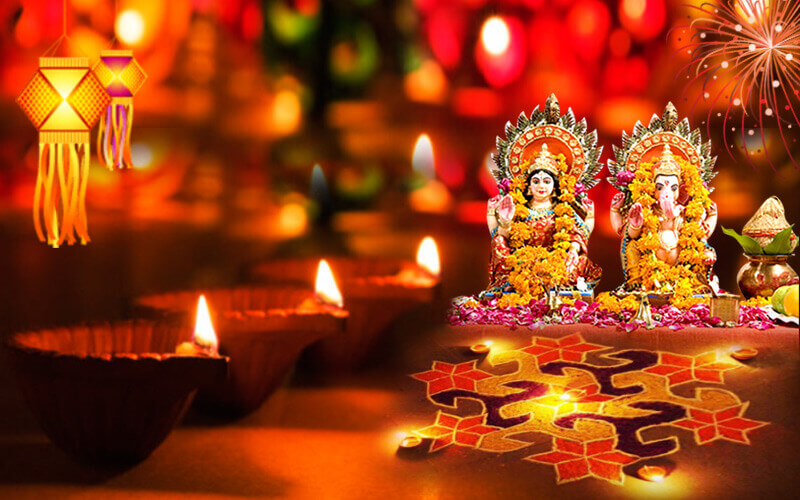 Introduction:
Diwali, also known as the Festival of Lights, is one of the most celebrated and cherished festivals in India and around the world. It's a time when families come together to share love, happiness, and blessings. One of the beautiful traditions associated with Diwali is the exchange of gifts. Finding the perfect Diwali gift for your loved ones is not only a way to express your affection but also a means of spreading joy. In this article, we will explore 10 thoughtful and unique gift ideas that will make this Diwali truly special for your friends and family.
Diwali is all about spreading light and positivity. What better way to celebrate this festival than by gifting handcrafted Diya's? These beautiful clay lamps come in various shapes and sizes, and they add a traditional touch to the celebrations. You can even personalize them with your loved one's name or a special message. Handcrafted Diya's not only brighten up their homes but also symbolize the triumph of light over darkness.
2 .Gourmet Diwali Gift Baskets:
Treat your loved ones to a delectable feast with gourmet Diwali gift baskets. These baskets are filled with an array of delicious sweets, snacks, and treats that are sure to delight the taste buds. From traditional Indian sweets like ladoos and barfis to international delicacies, there's something for everyone in these gift baskets. They make for a perfect gift for those who appreciate fine cuisine.
3. Personalized Nameplates:
                          Help your loved ones add a touch of uniqueness to their homes with personalized nameplates. These nameplates can be customized with their names, family initials, or even a beautiful message. They not only serve a practical purpose but also enhance the curb appeal of their homes. It's a thoughtful and long-lasting gift that will remind them of your love every time they enter their house.
4. Eco-friendly Gifts :
                In an era of increasing environmental awareness, eco-friendly gifts have gained popularity. Consider gifting sustainable and eco-conscious products like reusable bamboo cutlery, organic skincare products, or recycled stationery. These gifts not only show your commitment to a greener planet but also promote sustainable living.
5. Traditional Attire:
Diwali is the perfect occasion to don traditional Indian attire. Gift your loved ones beautifully embroidered sarees, kurta-pajamas, or lehengas. They can wear these outfits during Diwali celebrations and other special occasions. Traditional attire not only looks elegant but also makes the wearer feel connected to their cultural roots.
In Indian culture, gifting gold and silver coins during Diwali is considered auspicious. These coins are not only a symbol of wealth but also a thoughtful and enduring gift. They can be kept as an investment or used for various rituals and traditions associated with Diwali.
7. Personalized Photo Gifts:
Turn cherished memories into personalized photo gifts. You can create custom photo calendars, coffee mugs, photo books, or even canvas prints. These gifts allow you to relive special moments and make your loved ones feel extra special.
Help your loved ones deck their homes with festive Diwali décor. From vibrant Rangoli designs to colorful torans, decorative lamps, and wall hangings, there are numerous options to choose from. These items will help create a festive atmosphere and add to the Diwali spirit.
9. Spiritual and Wellness Gifts:
For a more meaningful and thoughtful gift, consider spiritual and wellness items such as incense sets, essential oil diffusers, meditation accessories, or yoga mats. These gifts promote peace and well-being, making them perfect for the Diwali season.
10. Charitable Gifts :
Share the joy of giving by making a donation to a charitable organization in your loved one's name. This noble gesture not only spreads happiness but also helps those in need. You can choose a cause that aligns with their values, whether it's education, healthcare, or supporting underprivileged children.
Conclusion :
Diwali is a time to celebrate with love, light, and joy. The act of gifting during this festival is a way to express your affection and strengthen your bonds with loved ones. These 10 thoughtful and unique Diwali gift ideas cater to a wide range of preferences and sentiments. Whether it's traditional, eco-friendly, personalized, or spiritual gifts, the key is to choose something that resonates with the recipient's personality and values.
This Diwali, let your gifts illuminate not just the physical spaces but also the hearts of your dear ones. Celebrate the festival of lights with the spirit of generosity, and make this Diwali a truly unforgettable and heartwarming experience for your family and friends.